NEWS FROM THE FRIENDS
17th Annual Eagle Festival
Come to the 17th Annual Eagle Festival at Blackwater NWR on March 11. We have fun activities planned for the whole family. Visit our Eagle Festival page for more details on this free event.
2017 Photo Calendars
Thanks to photographer Tom Lorsung for producing these printable 2017 Blackwater NWR calendar images:
Federal Junior Duck Stamp Art Contest - Feb. 18
The public is invited to view judging of the Maryland entries in the Federal Junior Duck Stamp Art Contest at the Blackwater NWR Visitor Center on February 18, 2017 (9 a.m.).
College Scholarships
The Friends of Blackwater offer three annual scholarships to Maryland students who are pursuing careers in fish and wildlife management, environmental education and science, and related fields. See our Scholarships page for an application.
Share your images!
Do you have a great image from Blackwater NWR? Be sure to visit our online gallery of images and videos from Blackwater NWR. You can submit a photo or video for inclusion in our gallery or you can share your photos and videos with us on our Friends of Blackwater Facebook page. Show us what you've got!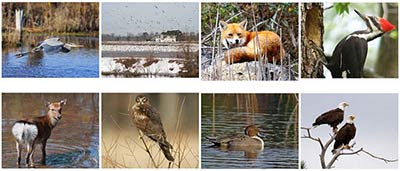 ---
What is a national wildlife refuge?
You might be surprised to learn that national wildlife refuges are different than national parks. The National Wildlife Refuge System is the only system of federal lands devoted specifically to wildlife. While national wildlife refuges provide recreational opportunities for people, they also provide habitat for more than 700 species of birds, 220 species of mammals, 250 reptile and amphibian species, and more than 1,000 species of fish. More than 380 threatened or endangered plants or animals are protected on wildlife refuges. Each year, millions of migrating birds use refuges as stepping stones while they fly thousands of miles between their summer and winter homes. Learn more about America's National Wildlife Refuge System at fws.gov/refuges.