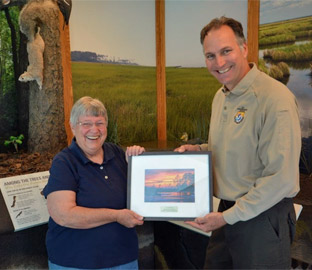 Blackwater NWR Holds Volunteer Awards Dinner
The U.S. Fish and Wildlife Service recognized volunteers of Blackwater National Wildlife Refuge (NWR) at its annual Volunteer Recognition Dinner on Thursday, April 10, 2014. The Friends of Blackwater sponsored the awards dinner at the Elks Lodge #1272 in Cambridge in celebration of the outstanding contributions made by volunteers in 2013 to Blackwater National Wildlife Refuge. During 2013, 221 volunteers donated 10,971 hours of their time to the Refuge, which is equivalent to five full time staff!
Every year, the U.S. Fish and Wildlife Service honors and distinguishes a volunteer for their exemplary performance throughout the year. This year, Dennis Ewell received the 2013 Volunteer of the Year Award for his dedicated service to Blackwater NWR. Dennis has volunteered at the Refuge for the past 18 years, staffing the Visitor Center, leading interpretive bus tours and environmental education programs, and helping with the Refuge's annual Eagle Festival. Mr. Ewell's friendly personality and vast knowledge about Refuge wildlife and habitats, as well as surrounding Dorchester County, makes him a valuable asset not only to the Refuge but to the community as a whole. Thank you, Dennis!
See the volunteer newsletter (1.3MB PDF file) for more information on the volunteer awards for 2013. And thanks to all those wonderful individuals who did so much in 2013 to make Blackwater NWR a great Refuge!